Rishikesh Nath Yogshala -
A Perfect Place for your Upcoming 300 Hours YTTC
300 Hour yoga teacher training program is an advanced-level yoga teaching course. So, the choice for the best yoga school is always the key. You can't just go and register yourself in any yoga school in India or Rishikesh. One should research a lot to find the best yoga school in Rishikesh. 300 hour yoga teacher training course program is all about gaining perfection so you must choose the school that is listed in the top 10 yoga schools. Moreover, the place at which you are going to learn yoga is crucial. Many factors such as certified yoga teachers, institutions in the lap of nature, fine accommodation facilities, and so on are the key to selection.

Rishikesh Nath Yogshala is listed among the best yoga school in Rishikesh for 300 hour yoga teacher training in Rishikesh. For the past years, we have cemented our spot in the field of yoga teacher training. This is because of the efforts done by our certified and experienced yoga teachers. Our team of yoga teachers helps you to eradicate flaws in yogic knowledge and sharpening the yogic skill. Moreover, our yoga teachers are known for removing even the smallest error in your yogic knowledge. Also, our yoga school is instituted in the lap of nature to avail the proper benefits of the yogic sessions.
Course Highlights
32 Days of Training
Beginners to Advance Level
Clean Accommodation
Yogic Food
Certification - Rishikesh Nath Yogshala
Registered - Yoga Alliance
Complete Course Material
Temples Visit
Ganga Arti
Outdoor Yoga Sessions
Course Schedule
| Session | | Time |
| --- | --- | --- |
| Wake Up | | 05:30 AM |
| Morning Tea | | 06:00 AM |
| Hatha yoga | | 06:30 AM |
| Pranayama | | 08:00 AM |
| Breakfast / Tea | | 9:00 AM |
| Mantra / Anatomy / Adjustment / Methodology | | 10:30 AM |
| Tea Break | | 11:30 PM |
| Methodology / Anatomy | | 11:45 PM |
| Lunch | | 01:00 PM |
| Philosophy | | 03:30 PM |
| Anatomy | | 04:00 PM |
| Tea Break | | 04:15 PM |
| Ashtanga Vinyasa | | 04:30 PM |
| Meditation / Yoga Nidra | | 06:00 PM |
| Dinner | | 07:30 PM |
300 Hour
Yoga Teacher Training

Courses
300 Hour Yoga

Teacher Training Syllabus
What is
300 Hours Yoga Teacher Training
Course ?
When it comes to intermediate or advanced level YTTC, 300 hours Yoga Teacher Training in Rishikesh is always the first choice. 300 hour YTTC is an intermediate or advanced level yoga teacher training course that imparts perfection in the field of yoga. You can only enroll in 300 Hours YTTC if you have successfully completed 200 Hours of YTTC. This yoga course helps in removing the flaws in your yoga learning whether it is theoretical or practical. The modification of asana, in-depth conceptual learning, and injury-free yogic activities is the major part of the 300 hours yoga curriculum.

During the course, the practice of advanced level yoga asana will be conducted in the presence of Yoga Alliance certified Yoga Teachers. This YTTC is known for evolving a person as the Yog Guru. This is not only a teacher training course but an initiation of your transformation. You are transformed physically, mentally, and spiritually into a well-renowned Yog Guru. The smallest possible defect in your physical and theoretical yogic science are identified and efforts are given to remove them. 300 Hours Yoga teacher training course is all about building blocks on the strong foundation of yoga learning that a person got from the 200 Hours Teacher training course.
Book Your 300 Hour Yoga Teacher Training Course
BOOK NOW TO GET 10% Instant Discount
Book a 300 Hour Yoga teacher Training Course package today for upcoming Date 15 October 2023 and get up to 10% discount on the packages. Rishikesh Nath Yogshala is the No.1 yoga school who provide the best 300 hour yoga teacher training Rishikesh as well as India. If You Book Course Before 13 October 2023 We will Get instant 10% off on 300 Hour YTTC.
Book Now
Rishikesh Nath Yogshala
Salient Features of our
300 hours Teacher

Training Course

300 Hours Yoga TTC at Rishikesh Nath Yogshala is always a mesmerizing experience for every yogi. During the 300 Hours YTTC in Rishikesh, we aim to forge you into a perfect yoga teacher. Our salient features of the Yoga Teacher Training Program includes
Yoga learning in the lap of nature
Proficiency building yoga course in India
Best Yoga School in Rishikesh
Eradication of flaws in Yoga Learning
Building Class conducting techniques and confidence.
Sattvic, healthy and organic yogic diet
Excursion to nearby places
Neat & Clean Accommodation
Book Now
200 hours yoga Teacher Training program by Rishikesh Nath Yogshala
Aims & Objectives
Strengthen the roots of Yoga in yoga aspirants.
Become a Best 300 HOur YTTC School in the World.
Connect the students with Spirituality.
Practicing Yoga Postures, Pranayama, Mudras, Dhyana, and Kriyas.
Building Class conducting skills.
Knowledge of the advantages of yoga on health & wellness.
Yoga Certification Course:
RYS-300 Yoga Alliance
We are a yoga alliance-listed Yoga School in Rishikesh with prime accommodation and learning facilities. Also, to enhance the learning efficiency we provide sattvic, healthy, and organic onsite prepared food items only. We do not compromise on our quality and aims to deliver the best yoga learning in the place.
The Yoga Alliance certification course for a 300-hour Yoga Teacher Training (YTT) program is an advanced training that builds upon the foundation of a 200-hour YTT certification. It provides an opportunity for experienced yoga teachers to deepen their knowledge, refine their skills, and expand their teaching repertoire. The course typically delves deeper into advanced asanas, pranayama techniques, meditation practices, anatomy, philosophy, sequencing, and teaching methodology. Participants explore advanced teaching techniques, gain a deeper understanding of yoga philosophy and its application, and refine their personal practice. Completion of a 300-hour YTT program with Yoga Alliance certification allows yoga teachers to enhance their credentials, broaden their teaching expertise, and open doors to teaching advanced-level classes, workshops, and specialized yoga programs. It demonstrates a commitment to continued learning and professional growth in the field of yoga instruction.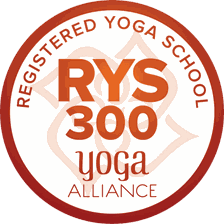 300 Hour Yoga Teacher Training Course
Course Curriculum
Pranayama is a set of Yogic Techniques and practices generally defined as breath control and is on its own considered a science. Here is what you'll learn on the subject:
Introduction of pranayama
Benefits of pranayama
The Pranic body
Prana and lifestyle
Breath, health & pranayama
Pranayama and the spiritual
4-Kriya And Shatkarma (The Six Purification Methods Of Hatha Yoga)
6-Teaching Methodology & Adjustment
Prerequisites
 Overcome the theoretical and practical tests that are proposed and perform the formative assessment tests, which will be indicated throughout the course, in order to obtain the corresponding accreditation. Daily study. For a good use of the course, the student will commit to dedicate at least two hours to the daily study. Teaching materials. The student must know that for this course he will be given didactic material protected by copyright. Punctuality. Classes have their established start time that must be respected at all times. Optional reinforcement. The student may request these optional reinforcement classes.
Additional Information
Course Open for both Intermediate to Advance Level
300 Hour Covered By 32 Days Outdoor Excursion Included.
Offered in a residential format.
Accompanied by a team of experienced teachers.
A basic level of English proficiency is necessary.
Comprehensive amenities, including books, notes, manuals, all classes, excursions, and taxi pick-up, are provided.
OUTDOOR
EXCURSIONS
During your 300 hours YTTC, you will be taken on the weekly excursion to relieve the hectic and stressful week. Moreover, the excursion will eventually help you to understand the local culture and maintain a bond with nature. Our place of the excursion will be of spiritual or naturalistic importance.
Ganga River
Forest
Cave
Kunjapuri Temple
What does and
doesn't the course

fee include?

32 Days - 31 Nights Accommodation

Study material

Yogamat

Cleansing Kits

fully Vegetarian meals

Weekend excursions

Free pick-up from Dehradun Airport

Fire Ceremony

Wifi

Air fare

Additional meals

Additional stay

Outdoor Meals

Travel Insurance

Drop off from the School to Airport, Bus Station etc
Food & Accommodations
Accommodation comprises of single rooms and double shared rooms. Nutrition, Exercise and Sleep are all equally important aspects of good health and health is obviously our most coveted asset. We take care of all of them while you learn yoga with us. Accommodation provided to you will have all necessary amenities. The options range from single rooms and double shared rooms. All rooms have attached bathrooms. the bathrooms are equipped with western toilet seats and showers. Hot water is also made available during winters. Your comfort is not compromised and the most conducive-to-learn environment is provided to you. Your food is our responsibility. We ensure to fulfil your nutritive requirements and also educate you about food's link with energy and emotions during your course. Meals will be provided to you. Three traditional vegetarian meals in a day -breakfast, lunch & dinner- are served here. Herbal tea is also served during the day. RO filtered safe drinking water is also available at our facility.
Yogic Food Facilities at Rishikesh Nath Yogshala
Meals are provided to you during your course. Three traditional vegetarian meals in a day -breakfast, lunch & dinner- are served to you. Herbal tea is also served during the day. Nutrition is integral to health so you get planned meals here. RO filtered safe drinking water is also available at our facility.
A Nurturing Environment
Two spacious and well-ventilated yoga halls
Fully furnished rooms with attached bathrooms
Round-the-clock management support available
Provision for reliable water supply and electricity
Air-conditioned yoga halls for optimal comfort
Proximity to local markets and cafes for added convenience
CCTV surveillance for added security
Dining hall with traditional seating arrangement
Convenient access to nearby laundry service
CCTV surveillance for added security
Dining hall with traditional seating arrangement
Convenient access to nearby laundry service
Discipline
Rules

for Students

Smoking and alcohol are strictly prohibited in the school. If you are having a fast any day, you have to inform kitchen manager for avoiding food waste. Always make discipline, respect teachers and follow all rules. Always be in the time, you are late means will not be permitted to join class. Clear your books of account before departure from Rishikesh Nath Yogshala . Before departure return your books, maps or any goods which you borrowed. Rishikesh Nath Yogshala provides accommodation for a student who join the yoga course. So any friends or relatives will not be included in accommodation however they can stay in school by renting another room. Student have to be present in all scheduled program of Rishikesh Nath Yogshala.
Refund

Policy

An advance of a course fees will not be refundable, only in the case of emergency students can join us on other schedules. If student cancel the course after joining it, we accept cancellation but course fees will not be refund in cancellation. There is no charge of course cancellation.
Note: All classes are mandatory only in case of an emergency or illness one can take leave with respected teacher permission. Uninformed leaves won't be accepted and this will leave bad impression on student monthly performance.
100 Hours -
Course Fee
| Course Days | Starting Date | Private Room | Shared Room | Triple Sharing | Booking |
| --- | --- | --- | --- | --- | --- |
| 32 Days | 15th Oct 2023 | 1199 USD | 999 USD | 899 USD | Book Now |
| 32 Days | 1st Nov 2023 | 1199 USD | 999 USD | 899 USD | Book Now |
| 32 Days | 15th Dec 2023 | 1199 USD | 999 USD | 899 USD | Book Now |
| 32 Days | 1st Feb 2024 | 1199 USD | 999 USD | 899 USD | Book Now |
| 32 Days | 15th March 2024 | 1199 USD | 999 USD | 899 USD | Book Now |
| 32 Days | 1st May 2024 | 1199 USD | 999 USD | 899 USD | Book Now |
| 32 Days | 15th June 2024 | 1199 USD | 999 USD | 899 USD | Book Now |
| 32 Days | 1st Aug 2024 | 1199 USD | 999 USD | 899 USD | Book Now |
| 32 Days | 15th Sept 2024 | 1199 USD | 999 USD | 899 USD | Book Now |
| 32 Days | 1st Nov 2024 | 1199 USD | 999 USD | 899 USD | Book Now |
| 32 Days | 15th Dec 2024 | 1199 USD | 999 USD | 899 USD | Book Now |